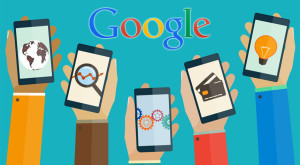 Mobile devices have changed the way we communicate and interact with each other and Google wants to make sure they do all they can to give mobile device users a better search experience.
Google, the powerhouse search engine with 67% of market share, announced that on April 21st 2015 they will be changing their search algorithm so that mobile-friendly websites will get a higher ranking than non-mobile friendly websites. Google said it this way "we will be expanding our use of mobile-friendliness as a ranking signal. This change will affect mobile searches in all languages worldwide and will have a significant impact in our search results." [read Google's official announcement here]
At first glance this may not appear to be a big deal but when you consider that Google processes 100,000,000,000 query's every month (yes that 100 BILLION!), then it really is a huge deal! Those are real people like you and me scouring the internet for whatever we need at any given moment and Google knows that most of us will be doing those searches on a mobile device.
What this means for businesses is that their website will need to pass Google's mobility-friendly test or risk getting lost in the mobile device search-shuffle. For some companies who depend heavily on Google, it could mean that their organic search traffic might drop off the proverbial cliff, along with their revenue. A very scary proposition when you think about it.
On the flip side if you're a small mom & pop shop that already has a mobile friendly site then you could possibly rank higher than your bigger competitor. Even if you're not mobile-friendly yet you still have an advantage because your smaller and more  agile where as your bureaucracy riffed competitors can be slow to conform to the new requirements.
Contact your webmaster to discuss your options. It may be that you only a few changes to your site to make it mobile friendly, and the worse case is you may need a complete redesign. Google has some resources that your webmaster can use to help guide them with ensuring your site is mobile ready.